"DANCE FOR BREAST CANCER" WEEK
October 14-17 is our week to wear something pink to classes to support Breast Cancer Awareness!
"Mommy & Me" Classes
We are offering a "Mommy & Me" 9-week session starting Monday, Oct. 21 from 5-5:30 pm. It will last for 9 weeks at a cost of $67 per student (family discounts available). If you know of someone who has a child or sibling 18 months to 2 years old, pass the information along to them.
TUITION
All class fees are due by October 10th. After this date, please add a late fee of $15 to your payment for up to 7 days late; after October 20; add a $30 late fee to your payment.
Please note, payments are due every 4 weeks and the due date changes each month.
HAPPY BIRTHDAY
Haylie Bowlby, Ashley Loughridge, William Wenning
CALENDAR OF EVENTS
Sept 16-Oct 10: Candle & Oil Fundraiser Starts
Oct 1: MANDATORY COSTUME DEPOSIT
Oct 10: Class Installment Due
Oct 10: Market Day Grocery Order Due
Oct 15: Market Day Pick Up
Oct 15-Nov 7: Holiday Pie Fundraiser
October 28-31: Halloween Costume Week
November 1: Mandatory Costume Deposit Due
COSTUME DEPOSITS
Each student will be responsible for his/her June recital costume deposits of $25 per student on the following dates: October 1, November 1, December 1; final balance February 1. The Holiday Recital in December will utilize holiday style pajamas again this year.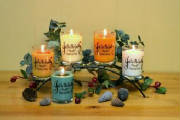 CANDLE FUNDRAISER
The candle fundraiser will begin September 16 and run through October 10. All monies will need to be turned in at that time. These proceeds will go towards their costume fees for June. This is an opportunity for parents to cut the costs of costumes and sell candles that are perfect as gifts or an everyday occasion. We've sold these candles for the past five years and they smell great and sell themselves. Good Luck and Happy Selling!

CLASS SUPPLIES
Please dress warmly to enter the studio, however, sweatshirts and jackets are not allowed during class. Leotards, dance shorts, and/or jazz pants are necessary. Supplies are available at the academy. Also, shoes that are on backorder will be handed out as soon as we receive them. FYI--Hip Hop shoes for Tuesday/Wednesday are backordered until the end of November.
2013 Recital Videos
All 2013 Videos not received need to be picked up at the front desk. You may also still purchase this (we have a few still available).
Senior Competitive Team
We wish the Weds Show, Jazz, & Hip Hop teams good luck as they travel to Chicago Oct 12 for their 1st competition of the season. We also extend our luck to Grace Etgen and Allison Smith as they compete in individual events.